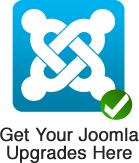 If you're using Joomla on your website and your website was launched before January of 2012, your website is out-of-date at this point. If you're still using Joomla 1.0 or Joomla 1.5, you should really upgrade to Joomla 2.5 as soon as possible, not only for security reasons, but because Joomla 2.5 offers so many great features.
New Features available when you upgrade your old Joomla website
Depending on the version of Joomla you're upgrading from you may enjoy the following new features that Joomla 2.5 has to offer:
ACL – granular permissions control for users and content via the access control system
Easy Updates – The automated notification of Joomla! core and extension updates
Smart Search – a faster, more user-friendly search experience for your visitors
Multi-Database Support – it's now possible to run the Joomla! CMS on many different databases, not just MySQL and MySQLi.
CAPTCHA built into the core of Joomla
Ability to copy a template
Implementation of Terms of Service in User Profile Plugin
Use the Images and URL Fields to Create Simple Standardized Layouts
Choose whether Administrator to Get Email When New Users Register
Addition of Counter to redirect component
Ability to add notes to Menu ItemsMenu Item Note
Ability to add custom text filters
Greater Flexibility Filtering by Category in Article Manager
Manager for Language Overrides
Ability to add User Notes
Flexible Newsfeed Order
Ability to add Image for the Offline Page
Option to Have a Site Come Up Offline After Installation
Better Performance in Menu Item Edit page
Alternate meta tags for multi-lingual sites
Improved Search Engine Optimization (SEO) via the new system plugin
Hundreds of bug fixes and more!
Why is it important to upgrade to Joomla 2.5?
Official support for the 1.0 branch of Joomla ended in July of 2009. Official support for Joomla 1.5 was ended by the Joomla project in September of 2012. This means that the Joomla project no longer releases security updates for these branches of Joomla.
Joomla 1.0 will not function properly on servers running newer versions of PHP. So, if you haven't already run into this issue, you will soon enough. It's going to become exceedingly difficult to find a hosting company that still has servers that will support your old Joomla website. Over time, the site functions of older versions of Joomla will no longer be supported by any hosting company.
What do you offer with your Joomla update service?
Every website is unique, so for starters, we'll examine your Joomla installation in detail and provide you with a quote for what it will cost to upgrade your website. To upgrade your website to Joomla 2.5 we will:
do all work locally so that you experience no downtime on your website
review your installed extensions, update them to the latest version on Joomla 2.5
locate comparable extensions to any old extensions that are no longer being developed and migrate your data to the new extensions
review and make any necessary changes to your Joomla template files
review and make changes to your database data, migrating your data to Joomla 2.5
work with you to install your newly upgraded site for you or we can simply provide you with the upgraded site files and database
So, what's the Joomla upgrade promotion you're offering?
Our standard hourly rate for most services is $65 an hour, so we're cutting you a break by giving you 10% off the standard hourly rate. Furthermore, if you switch to using our great hosting services, we'll give you an additional 20% off our standard hourly rate. Combined together, you'll save 30% off our standard rate services. This means you're going to save $20 off of our hourly rate, which is a huge discount off of Joomla Upgrade service. You're going to be hard pressed to find a better deal on Upgrading your Joomla website from an equally reputable web service provider.
Get Simple and save yourself some money and some headaches on upgrading your Joomla website today.
Contact our Sales Department to get a quote for upgrading your Joomla website with Simple Source Solutions.