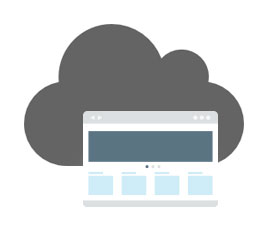 We're proud to announce the availability of our new Simple Hosting Plan. Hosted on our enterprise-grade cloud servers featuring SSD hard drives and 2.93Ghz Intel Xeon X5570 servers, this is the best Simple Hosting Plan to date.
Our new plan comes standard with 5 times the disk space and 10 times the bandwidth and a slew of new features that you're sure to love.
Hosting dynamic websites like Joomla and WordPress can place significant resource demands on servers as data is pulled to write pages. So, we've combined a set of features that limits and lowers overall resource utilization, making for less server load and a much more stable hosting environment.
Plan features
SSD Disk space – sites hosted on the plan are now hosted exclusively on our speedy SSD-based cloud servers.
NGINX (pronounced "engine-x") webserver as a frontend to apache to limit thread creation for requests. NGINX acts as a load balancer to apache, only passing through true web requests, utilizing much less memory.
We've included VarnishCache, which writes your pages to memory cache–speeding up delivery of your dynamic content up to 1000 times faster than standard hosting.
We're using CloudLinux OS on all of our shared cloud servers to ensure customers are getting the fair-use memory and CPU resources they deserve and as a way to limit resource abusers. Cloudlinux also insulates accounts from other users using CageFS by limiting shell access to only needed functions, making for an even more secure environment.
We've also added SpamExperts email filtering service by default on all inbound and outbound email traffic. SpamExperts boasts 99.98% filtering accuracy with close to zero false positives. In a nutshell, this means you can kiss junk mail goodbye. Since we're also using their outgoing filtering service, our server IPs stay blacklist free.
Hosting Account Resources
10GB of disk space is now included by default. That's 5 times the base specs disk space of our old plan. We have lowered costs for additional disk space down to $0.20 per gigabyte. That's $0.30 cheaper per gig and SSD disk space at that!
We've increase default bandwidth tenfold, up from 10GB to 100GB. You can now buy more bandwidth at just $0.10 per gigabyte in increments of 10.
The new Simple Hosting Plan is available for as little as $10/month and is available starting today.