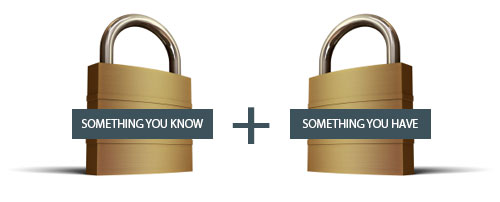 Security has always been of utmost importance to us here at Simple Source Solutions. Keeping your getsimple.net login details safe is right at the top of the list for us. In addition to a myriad of optimizations enhancements to speed your browsing experience within our client area, you now have the option of enabling two-factor authentication on your getsimple.net account to protect your accounts.
What is Two-Factor Authentication?
Two-factor authentication adds an extra layer of security by adding a second step to logging into your client area at getsimple.net. By taking something you know, such as your password, and adding a second factor, such a device generated code (i.e. on your smartphone), even if an attacker has your password they're prevented from accessing your account.
Why is Two-Factor Authentication Needed?
Despite advice to the contrary, users don't change passwords often enough and tend to use a "favorite" password for more than one service–making it very easy to compromise. So, two-factor helps provide a solution to this problem by providing a second layer of security.
So How Does It Work?
The method we've chosen to impliment employs time-based, 6 digit codes that change every thirty seconds as the second factor to your getsimple.net account password. You simply install Google Authenticator on your iOS or Android Device and visit your getsimple.net account where you can enable the service under Your Greeting > Change Password > Security Settings. You'll be asked to scan a QR code using google authenticator to setup the service. Once setup you can use the app for future access codes.
This is a simple solution that provides you with extra security in keeping your private account information private. Does your existing hosting provider give two-factor authentication as an option for added security? Get. Simple.