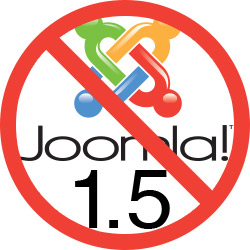 Shared hosting customers of some of the larger web hosting companies out there have started receiving unfriendly notices from their once trusted host. In a nutshell, the notices from JustHost and BlueHost and others state that Joomla 1.5 websites will be automatically updated to Joomla 2.5 in the coming days. Needless to say, this will create all sorts of issues and errors to appear on their customers' websites.
Why are they doing this?
Our guess is that this is a security move by these companies out of sheer ignorance. Joomla 1.5.26 does have some security flaws out of the box that do have patches available. Why not just offer to apply the patch…or even ask that the customer apply the patch by a certain date? We're not sure, but instead these hosts have chosen to send, what amounts to, eviction notices to their Joomla 1.5 hosted customers.
If it's not being done out of ignorance, then it's ambivalence toward 1.5 users, which would make the move all the more sad.
So, if you've received one of these notices, what are your viable options?
Simple Source is here to help
If you're a soon to be refugee from one of these hosting companies, we would be honored to serve the hosting needs of your Joomla 1.5 website. We've been offering hosting services to our Joomla users since 2007 and have the experience needed to be your reliable and trustworthy hosting partner. We employ a set of stringent security controls that help keep your site running without a hitch and without inconveniencing you as some have chosen as an attempt at security. We proactively maintain all of our servers to ensure optimal performance and monitor services on each service in 5 minute intervals to quickly respond to any issues that may arrise. We're more capable of serving your hosting needs.
Get Simple and get away from these hosts
We can migrate your sites from these providers free of charge and ensure that the latest patches have been applied to your Joomla 1.5 install. Furthermore, when signing up, use promo code: JOOMLA15REFUGEE to automatically receive 20% off of your order.
Get updated with care
We do a lot of Joomla website updates for our customers and even for people not hosting with us. If you're looking to have your site updated to Joomla 3 or Joomla 2.5, the right way, we can generally get this accomplished for you in as little as a few days to a few weeks for more complicated websites.  If you're choosing to host with us, we even give you a significant discount off of our update service.
We're sorry you're experiencing the incovenience of this awkwardly forced sitution. Whatever you choose to do, you can rest assured that Simple Source is here to support you in the days ahead.