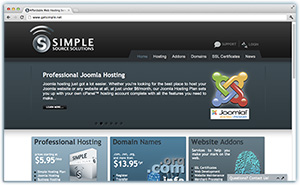 GETSIMPLE GETS REFRESHED
We are proud to announce the launch of our new website. The new site not only provides a slick new interface and customer experience, but places more tools at your fingertips to simplify managing your web presence. Now you can easily order and manage all of your services in one stop, including: web hosting, Joomla Hosting, Business Web Hosting, SSL Certificates, domain names, website maintenance plans, and design and development services. You can choose from the flexible and affordable Simple Hosting Plan or kick it up a notch with our brand-new Business Web Hosting Plan. Specifications are all super easy to upgrade and downgrade from within your account.
Business Web Hosting Plan

The new Business Web Hosting Plan starts out with 10GB of disk space and 150GB of premium bandwidth and unlimited email accounts, FTP accounts, mysql databases, and addon domains. Pay monthly at $24.95 per month or get tiered discounts up to 40% off the monthly price by paying in advance. Additional gigabytes of disk space run at only $0.50 per month. An additional 10GB of bandwidth is a mere $1 per month. Should you require a more accessibly priced plan, our Simple Hosting Plan starts at a reasonable $5.95/month with everything needed to realize your web potential.
SSL Certificates

We've long offered SSL Certificates to our customers upon request, but now ordering certificates from us is simple and super affordable. Available for order right from your account at getsimple.net, GlobalSign SSL certificates are now a featured part of our line of services. Choose from AlphaSSL, DomainSSL, OrganizationSSL, and ExtendedSSL from GlobalSign, one of the world's original Certificate Authorities issuing millions of certificates since 1996 among which are numerous Fortune 100 companies.
Starting at just $19.95 for a 1 year validity period, you'll be hard pressed to find a provider with better prices and options. You can get more bang for your buck by purchasing up to a 5 year validity period on almost all of the certs we offer. We're happy to setup and install any certificates you purchase for you–free of charge! Compare the different SSL Certificates we offer or order a SSL Certificate today.
Website Maintenance Services

We've totally revamped our website maintenance plans. Now with 3 plans to choose from, you're bound to find one right for you. The new plans boast options such as proactive site security updates, low hourly rate options, flexible pricing tiers based on billing cycle, or the option to pay as you go. Check out the new Total, Base, and Hourly Website Maintenance Plans.
In addition to these services, you'll be certain to enjoy:
the awesome new client area – when logging in at the new site, you'll be presented with a fresh, modern, and clean look to your client area based on twitter's Boostrap CSS framework.
Easy drop-down management and access to details for every service and domain you have with us.
A great new AJAX order form that displays and updates totals as products are added to your cart.
New Ordering System – You can now set your default payment method for new orders you place. After logging in, go to My Details and make your selection.
Bulk Domain Management – support for changing name servers, auto renew status, register lock and WHOIS contact information across multiple domains at the same
Auto Assign Contact Info – WHOIS information can now be automatically changed to the values from your main profile or any contacts automatically.
and more…
Simplify your hosting experience. Get Started today.